"Pride in every phase of our operation." - George Lagorio
Menu
Care and Handling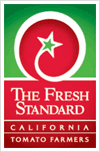 Storage Tips
Think of and handle tomatoes as you would bananas – botanically, tomatoes are a fruit and need to be gently handled and ripe to be fully enjoyed.
Ripe, full-colored (whole) tomatoes should be stored at 50-60°f. Less fully ripened tomatoes should be stored at 55-65°f. Not all tomatoes ripen at the same rate: monitor frequently. A day or two at 55-65°f may be enough to accelerate ripening.
Tomatoes are very fragile. When storing whole tomatoes, stack boxes carefully off the floor to prevent cross contamination and prevent bruising. Tomato boxes dropped even a foot or two will show up in bruising a few days later.
Immediately remove any tomatoes that show signs of decay. Decay can spread quickly.
Do not store tomatoes near bananas or onions. Not only will they take on these flavors, ethylene emitted by bananas can cause a tomato to ripen more quickly, shortening its shelf life.
Store whole tomatoes above 50°f. Whole tomatoes stored below 50°f will delay color development, destroy tomato flavor enzymes and texture, and considerably shorten shelf life.
Whole tomatoes should be pre-cooled by air in a cold room prior to any fresh cut application.
Do not use cold water immersion as a cooling technique.
Water temperature shall be maintained at least 10°f warmer than the pulp temperature of the tomato.
Finished fresh cut tomato products must be stored at refrigerated temperatures not to exceed 41°f.
Preparation Tips
Rinse whole tomatoes in running water; do not wash or store tomatoes in standing water.
One large tomato weighs about 6 ounces and yields about 1 cup chopped tomatoes.